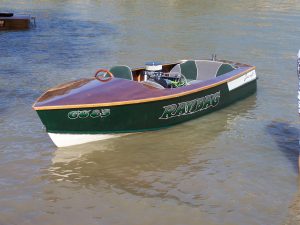 Seacraft 1962
After coming home from the Echuca Regatta in 2005 I decided I wanted my own boat  so I put the word around that I was looking for a bit of a project . It wasn't long before I got a call telling me Neville Blake was selling his boat SHE WOOD. So it was off to Bundalong to have a look at her, after a test drive which ended with Neville rowing back to the boat ramp and a bit of haggling we hooked her up and towed her home.
Once at home the boat was stripped bare to see how much rot there was and as it turned out there was more than expected but nothing that couldn't be fixed. I was very fortunate to have the help of Dave Lightbody (Bolb) who set me to work rubbing back all the inside and giving it two coats of Boatcoat. The deck had been replaced only two years before so that didn't need any work and the bottom was coated with fiberglass and that was good also. So we set about scraping out the rot along the sides and transom and repairing a few spots. It was getting close to painting and I still hadn't chosen a color let alone a name. Eventually I decided on Emerald Fire, the color of a car I once owned and Bolb suggested the White to go with it. After the paint was on it was off to the sign writer to get all the air brushing done and back home again for more clear.
It was decided the old Grey motor would do for our first season so it was given a coat of paint a bit of chrome and some braided hose and it looked OK. A rear seat was made and it was all sent to the upholsterer for trimming and a new cover was made to protect that new paint.
Our first outing in Ratbag was at Deni Water Woodstock 2006 where we won the trophy for best boat at the show. The first season on the water was very satisfying with lots of trips away, and lots of fun and topped off with the best presented boat in its age category at the Echuca regatta and I also received the COFFO AWARD of which I am very proud. On the downside it was the slowest boat at the regatta and something had to be done about that.
I decided that a mild Red motor would help things along a bit so I contacted John Coffey and he said "leave it with me". Soon after John rang and said he had a rebuilt 179 in his shed, he also had a highly modified head which would work well. A Wade 140 cam was added along with roller rockers and the whole lot was balanced and assembled and topped off with a 465 holley and electronic ignition. More chrome, braided hoses and metal polishing and the motor was complete. An adjustable cav. Plate was made and fitted and she was ready for another season.
Myself and my family have had three great seasons with Ratbag, going to most club outings and regatta's. Erryn and Steph love driving it especially Erryn who believe's that if the tacho's not at 6 grand then your just not trying. This year after winning our third best presented trophy I have sold Ratbag and am about to start on another project, hopefully we will get as much fun and enjoyment from restoring and driving our second boat as we did with our first.
Neil Williams