Lipp Stick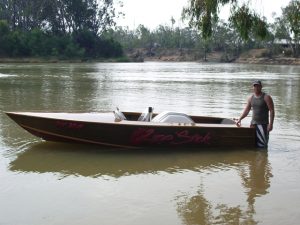 Owner – James Tolley
Model: Syndicate 16.5 foot
Year of Manufacture: 1995
Engine: Holden 308 stroked to 355 cubic inches, Scat Crankshaft, Rods and Forged Pistons, L34 Heads, fully studed top and bottom end including Girdle plate, Internally balanced, Hi Energy sump, Crane Camshaft, Yella Terra roller rockers, Edelbrock Performer inlet manifold, Holley 650, Electronic Schorcher ignition, Water cooled exhaust manifolds and dog clutch.
Trailer: Boat sits on custom trailer with drop axles and 17 inch rims and tyres.
I started skiing from an early age of 8 and have always loved the look of the timber boats, "WOODIES". I have had 2 Fibreglass boats in the past and wanted something a little faster and more nimble. After attending a few Seacraft/Syndicate club days at Carrum I decided I had to have my own. I had been searching for a Syndicate/Seacraft for a couple of years when finally I came across Lipp'Stick. I purchased Lipp'Stick in early February 2009 privately.  She had been knocked around a bit and had a standard 308 Holden engine fitted. I used her for the rest of summer 08/09 and blew a head gasket. Being a Mechanic I decided to pull the engine out and freshen her up. Its strange how a small job can turn into a major restoration. The hull was sent off to Bolb for painting and I decided to stroke the original 308 to 355 cubic inches. I could not keep the smile off my face when I picked up the hull from Bolb. She looked amazing, gleaming and shining like new. I set to work refitting all the cav gear and steering. I strengthened all mountings for cav gear and stringers using stainless plates. At present the engine is still getting built and I can't wait to get her back in the water. The boat will be used only for social skiing up and around Echuca area.