WOOD 'N' FIRE – V8 MIDMOUNT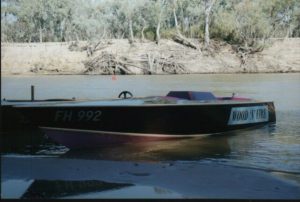 OWNERS – GREG & JENNY
SEACRAFT LC 1997
This boat was built by Jeff Tull to take a 350 Chev crate motor, imported from the States called a ZZ4 350 horse power (which was bought as a new forklift motor, but just didn't fit). The boat was fully set up by Jeff. The upholstery was done by one of our sponsors – Dingley Upholstery, and designed by Jenny and I. It was a bit scary picking the bright pink, but it's OK.
The boat was built after owing a 6 cylinder midmount called Sleeper, which we restored and had a great time in, but just wasn't fast enough. We needed to have a boat that we could use more in the events so that we didn't have to ski behind other people's boats that went quick. So we had 'Wood 'N' Fire built, which was sponsored by GCW Constructions Pty Ltd.
The trailer was built by myself and galvanised, to everyone's disgust, because apparently you only galvanise yacht trailers! But it was built to be maintenance free, which it is. Besides, no one sees the trailer when the boat is in the water!
This boat was built as a social, family ski boat with all the bits like the engine cover, ski pocket and glove compartments, but it just had to go a bit quicker than normal.
Now all that is needed is for me to learn how to drive it around the corner buoys, because it handles a little bit different to Sleeper.