Woodstock – 350 ci Chev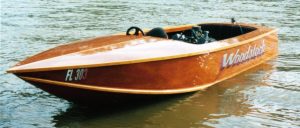 OWNERS – Chris & Melony BOYLE.17'6″ 1999
The Woodstock story began for us in 2001 when we purchased the boat from it's original owner (who was also responsible for building the hull, fitting-out the boat and building and painting the trailer). It is a 1999 built, 17'6″ hull with a mild, mid-mount Chev and full interior.We used the boat as it was in the first year with various trips up to the "Murray" with friends and family.  A couple of SSBOC members saw that we had a "woodie", and invited us to come along to a regatta and join the club.
Our first regatta was in 2002 where I competed in three events, and although I didn't win any of these events, we had a good weekend just being part of it. After seeing just how much better some of the other boats in the club went (and the fact that our boat was breathing a fair bit of oil), it was decided that our engine could do with a freshen-up.
It came back from the engine builder with new pistons, rings, rods, cam, lifters, valves, springs, bearings, new sump and mild porting on the "smog" heads. A mate and I fitted a Holley double-pumper carb and an oil cooler. By this time the 2003 Echuca Regatta was fast approaching and the only part that we didn't have was a new MSD distributor which was on it's way from the USA.
We decided to run with the old HEI distributor for the for the regatta. Woodstock's performance had a definite improvement over the previous year which resulted in a 2nd place in Family mid-mount V8 boat time trial. Sunday's events were abandoned due to bad weather. This was a little disappointing because I really wanted to have a good go at V8 boat-a-kana, an event which would suit our boat as our boat has always handled and turned "pretty good".
Not long after this, it was discovered that our new engine had detonated, either due to some bad fuel or a too steep advance curve from the old distributor. Back to the engine builder for some new internals, only this time we had the new MSD distributor to install. All has gone well with the engine after that little stuff-up (touch-wood).
The '03-'04 summer season started with the usual family trip up to Tocumwal for Christmas when during our time there, we copped a little bit of damage to the bottom of the boat after crashing over the wash from one of those …… wakeboard boats. Don't you just love that! Back in the shed again to repair, paint and strengthen the bottom.
With hull repairs completed, new carpet for the boat and a tidy-up for the trailer, it was off again to the '04 Echuca Regatta. This time the boat's performance was great, coming home with a third, 2 seconds and wins in Family mid-mount V8 boat time trial and V8 boat-a-kana. By far the most enjoyable regatta we've had.
I can't see that we will be making any major changes to Woodstock in the near future, although a bit more speed would be nice. But as the saying goes "If it ain't broke, don't fix it". One thing's for sure, no matter whether we're winning or not one thing's for sure, we will be having fun.